THE CATHOLIC PARISH OF SALISBURY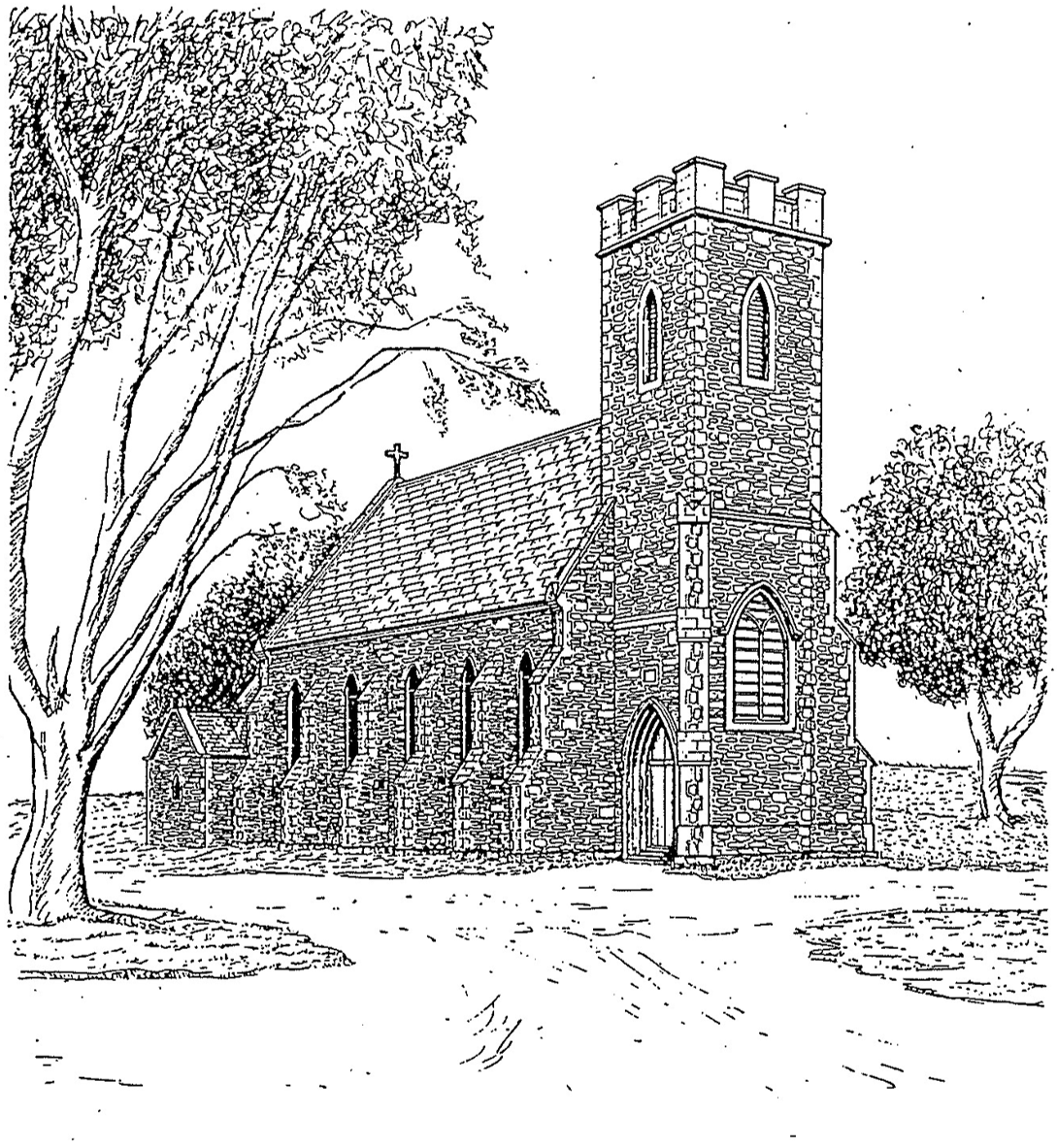 The first Catholics who settled in Salisbury and elsewhere in Australia were predominantly Irish. Until the commencement of the post war migration programme in the late 1940s, Irish and Catholic were synonymous terms in Australia. Now the position has changed, and each Sunday Mass is celebrated in about twenty languages throughout the land.

In 1846, ten years after the foundation of the colony, Mass was first celebrated in Salisbury on a site near the Old Catholic cemetery. The first school was opened in 1850 in what is now the dining room and one bedroom of the presbytery. A temporary chapel made of pug and pine was created in 1853, but this structure was destroyed by fire in 1855.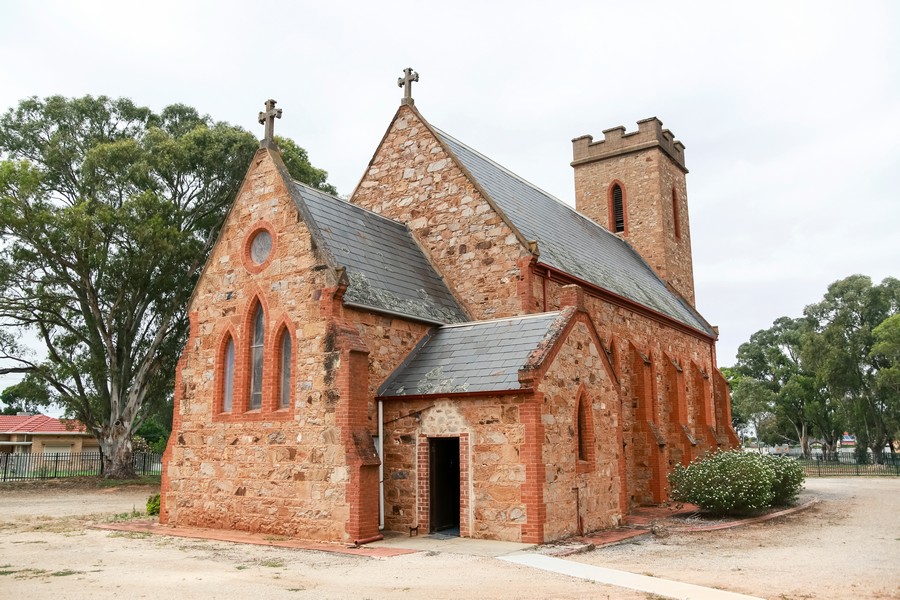 The congregation then decided to build a permanent place of worship to be known as St Augustine's Church. Much of the preparatory work such as quarrying and carting building stone was done voluntarily. The foundation stone of St Augustine's was laid in 1851 but the church was not completed until six years later due to the departure of most able bodied men to the Victorian goldfields. St Augustine's was finally blessed and opened by Dr Francis Murphy, Adelaide's first Catholic Bishop, on 1st March 1857.
The names of some of the pioneering families entered in the early church registers were: Brady, O'Leary, Sullivan, McIntyre, Hannon, Thompson, Carey, Teisseires, Madigan, Cunningham, Judd, Fitzgerald, Fahey, McGee, McCarthy, Murphy, Farrell, O'Callagan, Quigley, Sheedy and Ryan. Many descendants of these early settlers are still parishioners of St Augustine's.

Around 1845 Dr Murphy received an unexpected windfall from William Leigh of Woodchester, England. Mr Leigh, a convert to Catholicism, gave the Bishop 2000 pounds to purchase the acre on the corner of West Terrace and Grote Street. St Patrick's church and Archbishop's House now stand on this block. Leigh, an absentee landlord, also gave the church four acres of land in North Adelaide and about five hundred acres at Little Para. This came to be known as Bishop's Farm. Dr Murphy used the income from the farm to finance church projects. The farm is now part of the Little Para Reservoir.

Until 1869 Salisbury was part of Gawler parish. In June of that year it was severed from Gawler and became a parish in its own right with Dr Frederick Byrnes as first parish priest. The last Gawler parish priest to minister to the Catholics of Salisbury was Father Christopher Reynolds who became Bishop of Adelaide and later Adelaide's first Archbishop. A memorial window was erected behind the alter of old St Augustine's to the memory of Dr Reynolds by "one who knew and loved him." The window is still well preserved.

It is interesting to note that Frederick Byrne and Christopher Reynolds both did part of their seminary training in Ireland and completed it at Sevenhill near Clare, South Australia. At that time the Jesuit Fathers from Innsbruck, Austria, conducted a seminary and secondary college for boys at Sevenhill. Father Julian Tennison Woods, the well-known priest, scientist, educationalist and explorer, did most of his priestly training in England and France and completed it at Sevenhill. The seminary rector was Father Joseph Tappeiner, S.J. Dr Byrne was a fine linguist and later became Vicar General of the Archdiocese of Adelaide. It seems providential that Frederick Byrne and Christopher Reynolds ever reached South Australia. They were both Irishmen who migrated to Western Australia and later decided to move together to South Australia.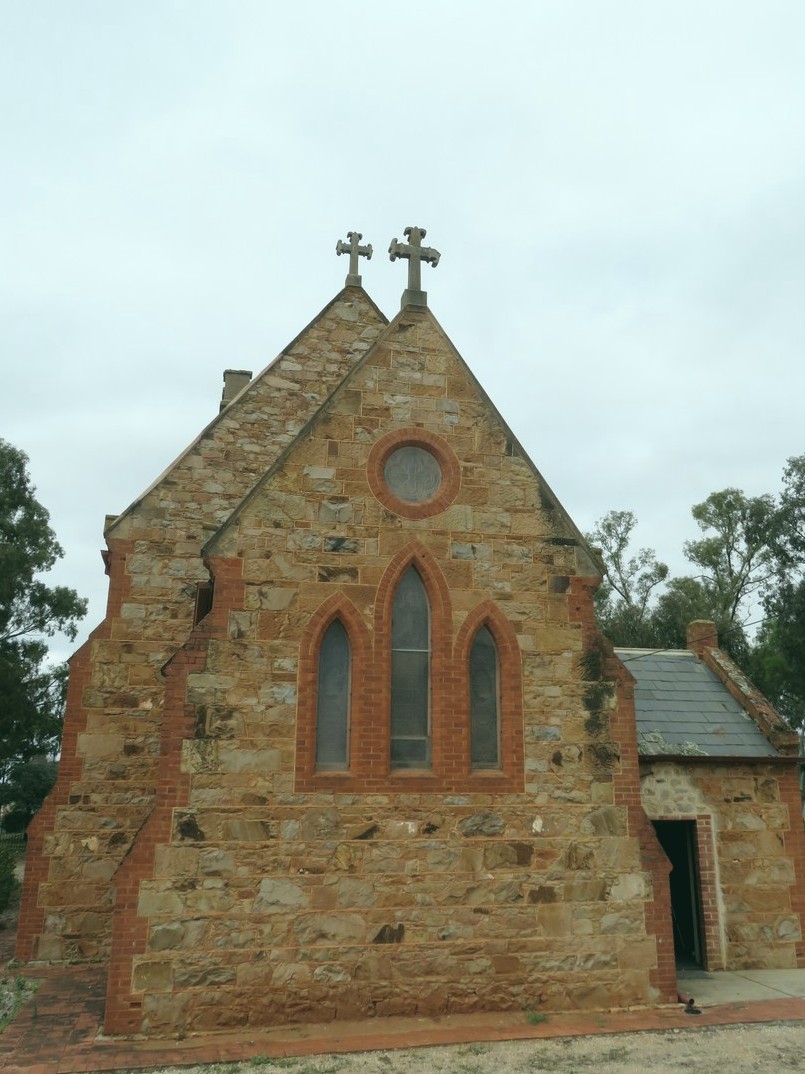 Dr Byrne in his "History of South Australia" describes the perilous experience they had in crossing the tempestuous waters of the Great Australian Bight. He says, "We booked our passage in a small schooner owned by an ex-convict called Sam Breakes. Just as we were about to sail, the police arrested the captain on a charge of having stolen property on board. One Captain Adams was put in charge to bring the craft to Port Adelaide, and a policeman was placed on board to keep an eye on the pilot who was a ticket of leave man. The vessel was not long at sea before faults in construction began to appear, and she took water to such an extent that the pumps had to be kept constantly at work. Adverse winds added to the trials of the crew and passengers. The captain too, took ill and was confined to his cabin, while to make matters worse, the food supplies became exhausted. For some days those on board were reduced to three, and then two biscuits a day, and before Port Adelaide was reached, 31 days after leaving Fremantle, the last biscuit had disappeared".

About twenty parish priests have served Salisbury parish, three of them for long periods. Father George Pierce served from 1904 to 1916. He was succeeded by Father Richard Morrison who was parish priest from 1916 to 1926. He was a man of great aesthetic taste and had such a brilliant career as a student that he needed special papal permission to be ordained at an age younger than usual. He later became diocesan archivist and did a great deal of research into the history of the church in South Australia.

Father Frederick Gatzmeyer was appointed parish priest in 1926 and held that position until he was killed in a tragic motor car accident at Parafield in 1957.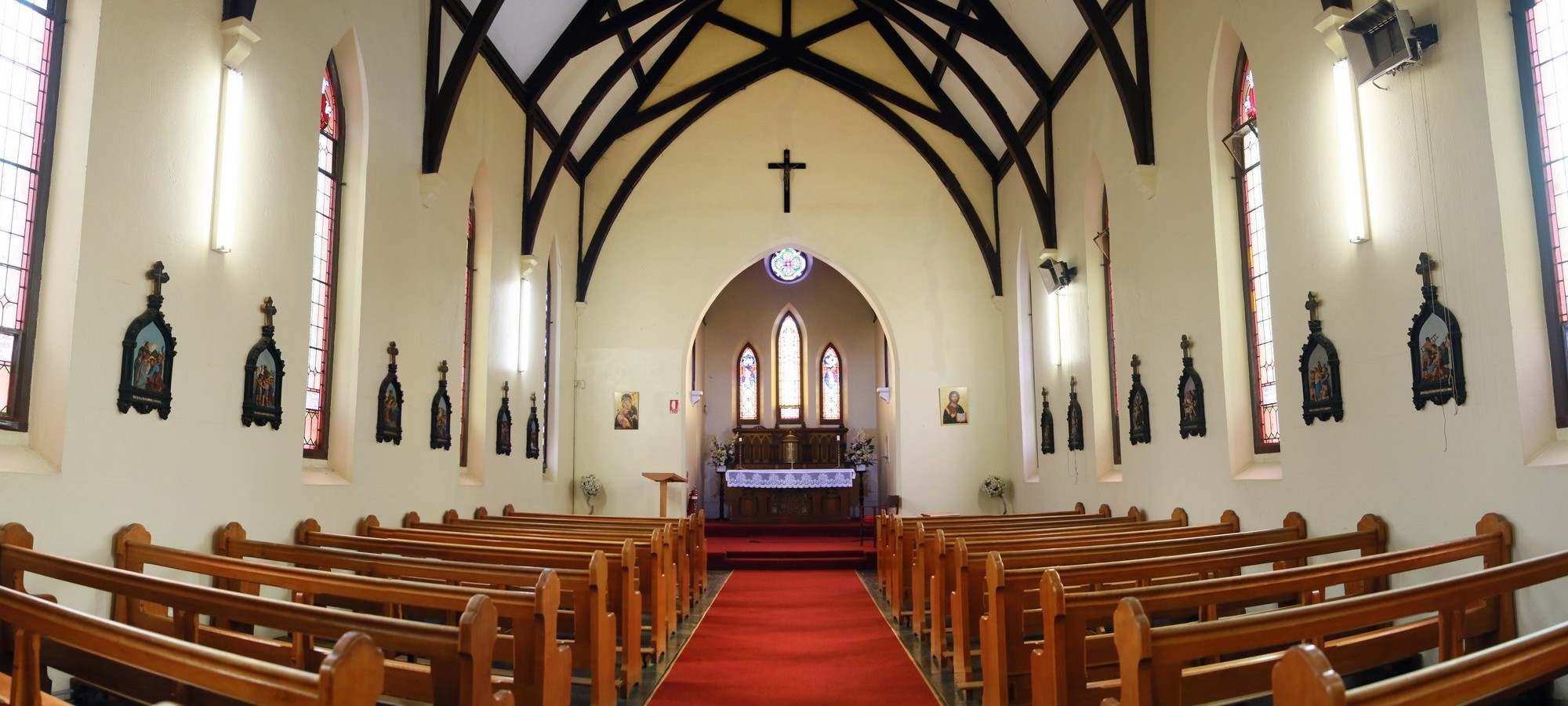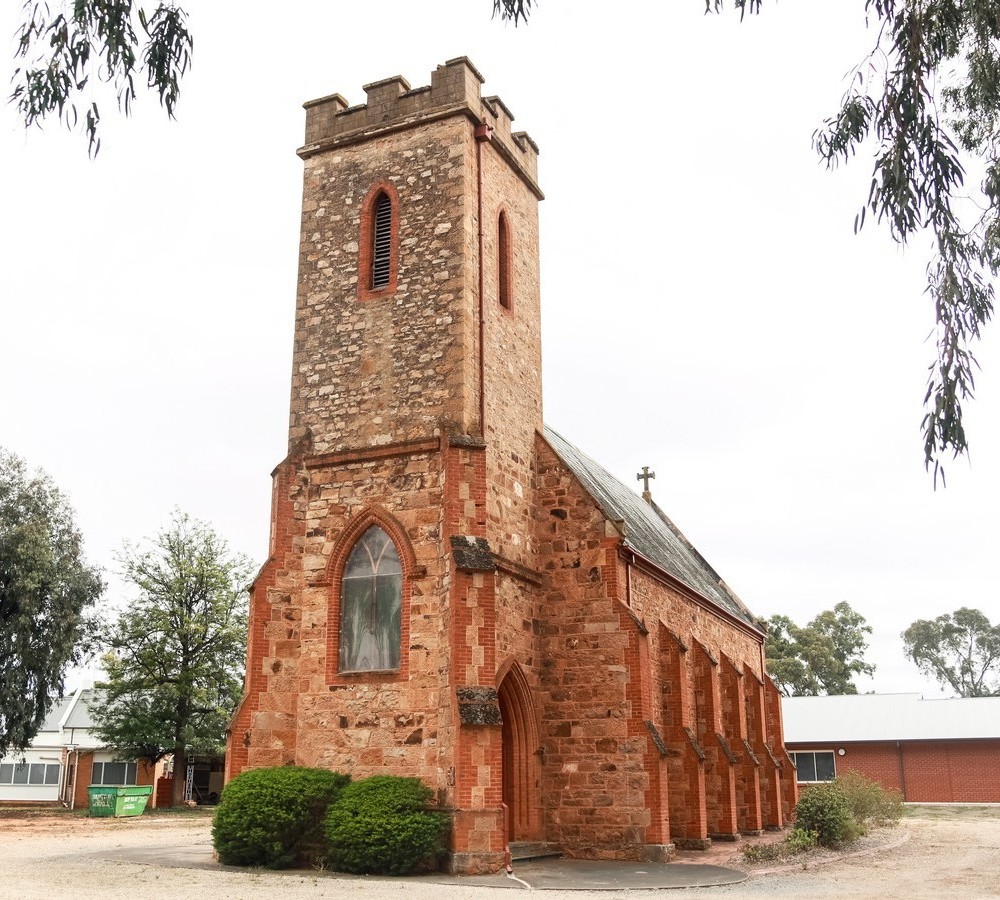 In Father Morrison's term the choir loft was constructed, most of the stained glass windows were put in place, a start was made in erecting the church tower and Stations of the Cross were put in the church. The tower was completed in Father Gatzmeyer's time and a bell, cast in Dublin, and weighing about a ton was placed in the tower. On the invitation of Father Gatzmeyer, the Dominican Sisters arrived here in 1954 and opened the first section of St Augustine's school in what is now the parish hall. In Father Fatzmeyer's time the population increased rapidly and he saw Salisbury change from a small rural community to a populous suburban parish. He had great skill as a "handyman" and kept the buildings in first class order.

Even now the Salisbury parish is large in area, but at the turn of the century, it was bounded by Gawler, Blumburg (now Birdwood), Port Adelaide and North Adelaide parishes. The priests at that time did a lot of travelling to visit their scattered flock. For many years the priest from Salisbury was also Catholic chaplain at "the stockade" as Yatala Prison was then called.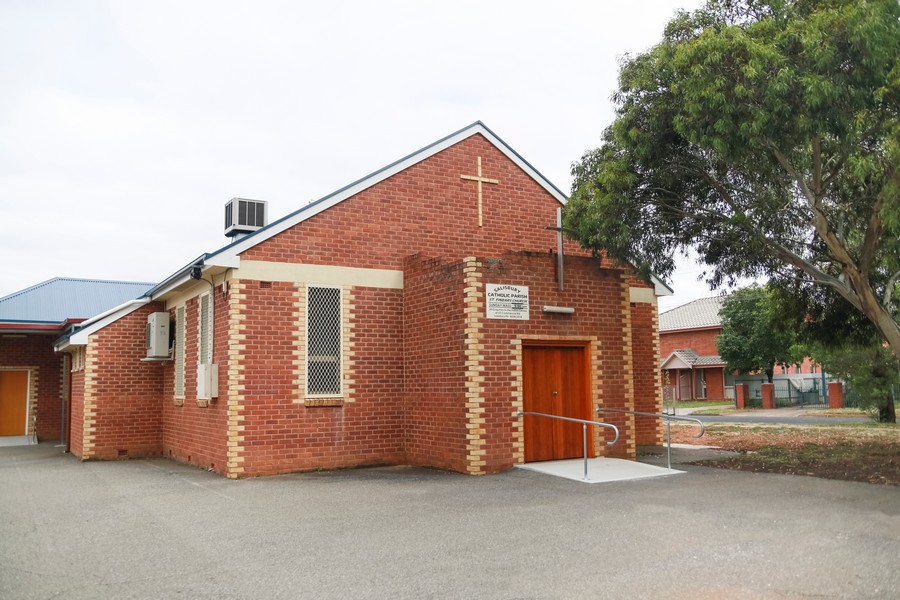 During Father O'Callaghan's pastorate, St Finbar's Church in Salisbury North was blessed and opened by Archbishop Beovich in 1958. St Finbar lived in Cork, Father O'Callaghan's home county. In 1961 a small chapel was blessed and opened in Carey Street Dominican Convent.

Virginia Was severed from Salisbury parish in 1962 and became a separate parish under the Franciscan Fathers. St Finbar's school in Salisbury North was also opened in 1962.

In 1965 when Father Bustelli was parish priest the Motor Mission taking religious education to state schools was established. Holy Trinity Church in Para Hills was opened in 1966.
Father William Flanagan was our parish priest from 1967 to 1974. In 1969 the class rooms at St Finbar's school were destroyed by fire. The parish church was now not nearly large enough for the increasing population. The highlight of Fr Flanagan's ministry was the erection of the "new" St Augustine's which was consecrated by Archbishop Gleeson on 25 March 1972 and officially opened by His Grace the next day. For a few years old St Augustine's was used as a chapel. For a number of years now it has been used as a church by the Greek Orthodox community who care for it very well.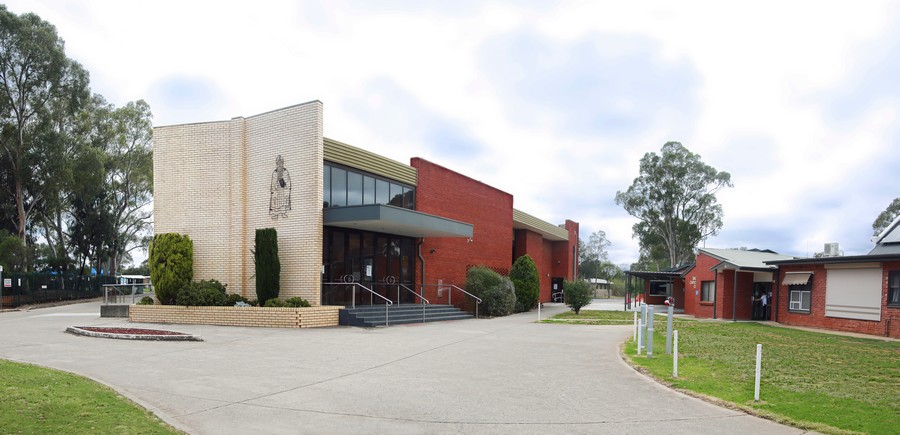 In 1969 Father Frank Ferranato became our third resident priest and Franciscan sisters came to work in the parish. The Franciscans and Fr Frank worked mainly amongst the increasing Italian community. Father Vincenzo Gualtieri succeeded Fr Ferranato as Italian regional chaplain. In 1981 he was replaced by Fr Fausto Andreasi who is still here. In 1896, when there were few, if any, Italian parishioners, an Italian priest, Fr Aristide Gandolfi, was parish priest of Salisbury. He later returned to Italy where he died in 1948 aged 100 years.

Today we have many Dutch parishioners. From 1872 to 1874, Father van der Heiden, a Dutch priest, was our parish priest.

Very Rev. Dean L.M. Travers took charge of the parish in 1974 and due to his energy and drive the first regional pastoral council (as distinct from parish pastoral councils) was formed. It consists of representatives from the parishes of Salisbury, Virginia, Para Hills, Elizabeth North, Elizabeth South and Gawler. He was the driving force behind the establishment of St Thomas More's co-educational, comprehensive, regional secondary college on King's Road. He also worked very hard to establish Holy Family Primary School at Parafield Gardens in 1981.

In 1973, two Jesuit priests, Fathers George Belfrage and Brian Stoney, came to live and work in the community in Salisbury North. There was a Jesuit presence in the parish for the next seven years.

St Augustine's school has grown enormously and now has an enrolment of 752. The enrolment at St Thomas More's is 739 and 300 children attend Holy Family School. Each school has a lay principal and mainly lay staff.

Since 1982 when Father Hugh O'Sullivan left us, the parish has been run by a team ministry consisting of five priests, Dominican, Loreto and Canossian (Italian) sisters, a full time youth worker, a full time office worker, lay people including about twenty groups such as various school committees, liturgy group, charity, caring, youth, management, Y.C.W., Y.C.S., C.W.L., St Vincent de Paul, choirs, Italian Catholic Federation; St Joseph's Committee, Legion of Mary, sports clubs and a child minding group. This list is not exhaustive.

The team works with the support and direction of the Parish Pastoral Council which has elected ex officio members. Father Robert Egar is the coordinator of the team.

Many of our plans for the future will 'be innovative, and many will be built on the excellent work that has been done in the past. We hope that our plans and activities will develop such things as greater tolerance, communication and unity among us all, the capacity to listen to each other and try to understand, an awareness that we are all responsible and should cooperate with the parish team.

We should try to help all Christians to share in the development of spiritual life, pastoral life, social justice and Christian education.
| | |
| --- | --- |
| 1869-1872 | Fr. Frederick Byrne |
| 1872-1874 | Fr. Charles Vander Heyden |
| 1877-1879 | Fr. Charles Church |
| 1881-1883 | Fr. Edmund Phelan |
| 1883-1890 | Fr. Mark Delahunty |
| 1890-1895 | Fr. Thomas O'Neill |
| 1896 | Fr. Aristide Gandolfi |
| 1897-1904 | Fr. Francis O'Neill |
| 1904-1916 | Fr. George Pierce |
| 1917-1926 | Fr. Richard Morrison |
| 1918-1923 | Fr. John Eviston |
| 1926-1957 | Fr. Frederick Gatzmeyer |
| 1938-1939 | Fr. Thomas O'Reilly - Administrator |
| 1954-1960 | Fr.David Abfalter - Assistant Priest |
| 1957-1964 | Fr. John O'Callaghan |
| 1960-1961 | Fr.Kevin Hay - Assistant Priest |
| 1962-1964 | Fr. James Honner – Assistant Priest |
| 1964-1967 | Fr. William Bustelli |
| 1965-1974 | Fr. William Flanagan – Assistant Priest then Parish Priest |
| 1967-1972 | Fr. Peter Monopoli - Assistant Priest |
| 1969-1977 | Fr. Frank Ferranato - Italian Chaplain |
| 1972-1976 | Fr. Joseph Caruana - Assistant Priest |
| 1972-1974 | Fr. Brian Stoney S.J – Jesuit presence |
| 1973-1975 | Fr. George Belfrage S.J – Jesuit Presence |
| 1973-1978 | Deacon Walter Jewell |
| 1974-1981 | Dean Louis Travers |
| 1975-1980 | Fr. Ned Riordan S.J - Jesuit Presence |
| 1976-1979 | Fr. Tom Gleeson - Assistant Priest |
| 1977-1982 | Fr. Hugh O'Sullivan – Assistant Priest then Parish Priest 1981 -1982 |
| 1977-1980 | Fr. Vincenzo Gualtieri - Italian Chaplain |
| 1980-1992 | Fr. Fausto Andreasi - Italian Chaplain |
| 1981-1983 | Fr. Michael Brennan – Assistant Priest |
| 1983-1990 | Fr. Robert Egar – Parish Priest |
| 1983-1987 | Fr. Richard Morris – Assistant Priest |
| 1983-1987 | Fr. Dean Marin – Assistant Priest |
| 1984-1987 | Fr. Michael McInerney - Assistant Priest |
| 1984-1987 | Fr. Peter Dunn - Assistant Priest |
| 1987-1991 | Fr. Andrew Hogan - Assistant Priest |
| 1988-1990 | Fr. Phillip Marshall – Assistant Priest |
| 1990–1998 | Fr. Phillip Marshall - Team Leader |
| 1990 | Fr. Leon Czechowicz - Administrator |
| 1991-1993 | Fr. Don Coutts - Assistant Priest |
| 1991-2001 | Deacon Les Baker |
| 1991-1994 | Fr. Stephen Brooks - Assistant Priest |
| 1992-2005 | Fr. Aldo De Luca - Italian Chaplain |
| 1994-1998 | Mgr. James O'Loughlin – Assistant Priest |
| 1998-2006 | Mgr. James O'Loughlin - Team Leader |
| 1995-1999 | Fr. Minh-Tam Nguyen – Assistant Priest |
| 1999-2000 | Fr. Noel Molloy – Priest in Residence |
| 1999-2007 | Fr. Micheal Trainor - Priest in Residence |
| 2000-2003 | Fr. Roderick O'Brien - Assistant Priest |
| 2004–2008 | Fr. Christopher Matala - Assistant Priest |
| 2006–2017 | Fr. Roderick O'Brien – Parish Priest |
| 2006–2007 | Fr. Paulo Civardi - Italian Chaplain |
| 2007–2010 | Fr. Don Giorgio Celora – Italian Community |
| 2008–now | Fr. Francis Trinh Van Phat – Priest in Residence |
| 2009-2011 | Fr. John Herd – Assistant Priest |
| 2011–2017 | Fr. Tran Quang Tong – Assistant Priest |
| 2013- 2017 | Fr. Shibu Jacob MSFS Assistant Priest |
| 2013–now | Deacon Arturo Jimenea |
| 2017- now | Fr. Shibu Jacob MSFS Parish Priest |
| 2018-2020 | Fr. Saminathan Arockiasamy, Assistant Priest |
| 2019-2020 | Fr. Vimalraj Anthony Adimai, Assistant Priest |
| 2020-now | Fr. Santosh Pereira, Assistant Priest |